Pogba vs The Other Mercenaries - Why always him?
Clint-TheyCallMePapii
Star Player



Posts: 14,558

Joined: Aug 2012

Achievements:
Pogba vs The Other Mercenaries - Why always him?
I'll be first to say, I give Pogba the most criticism and abuse. I call him a cunt, a coward, a fake, a bottler, mercenary, Pogshite....literally shitloads.

The bloke is inconsistent. He's got an annoying level of self-confidence. We paid £90m to re-purchase an academy product and we are still the garbage club we was under David Moyes and Van Gaal.
He's the leader of this team of mercenaries and he's a giant influence on the dressing room culture.

But do we really want to lose Paul Pogba or David De Gea ahead of players like Chris Smalling, Phil Jones, Matic, Ashley Young & Jesse Lingard?

Does Paul Pogba make Chris Smalling terrible or has Smalling been a bad footballer for 9 years? Who was at fault for Cardiff's 2nd goal? Chris Smalling.

Yes Pogba didn't produce the goods for 75% of the season but when has Matic been a decent defensive midfielder?
How did Phil Jones convince Woodward to give him a 5 year deal despite being the worst and most injury prone defender to disgrace the club?

Remember Pogba has contributed 16 goals & 14 Assists. Top scorer and Top playmaker.
Who's 2nd best? Rashford with 13 goals & 8 assists.
3rd best? Lukaku with 15 goals & 3 assists.

The fact is Pogba does not play with good players. These players are not
Lloris-Varane-Kante-Matuidi-Mbappe-Grieszman. We don't have a spine.
These players are not half of Buffon-Bonucci-Cheilini-Pirlo-Vidal.

Pogba is not a leader, he's a luxury player that compliments the team.
How can a creative midfielder be our top scorer? It's ridiculous he is our biggest goal threat.

We need to start addressing the bigger issues before pointing fingers at our best players.

David De Gea and Paul Pogba leaving now or later is symbolic of the club's failure to build a competitive team. Both will go on to play for PSG,Juve, Real or Barca.

Who will Chris Smalling play for? Who will Matic play for? Who would buy Lingard?

Pogba can do better and should do better as a leader, in terms of consistency and impact in ALL games rather than pick and choose.

But when we kill other players with the same standards we hammer Pogba and De Gea with?

Frankly I am sick and tired of being frustrated with the last 6 years. The hate towards Pogba is pent up anger that accumulated way before his arrival.
He is taking the brunt of abuse other mediocre footballers should be suffering.

If United were in the positions we was in 2009 or 2006 or 2003 or 2000, I would say sell this bad influencer.
However in a time where United are employing footballers who are relegation standard, Pogba is the difference between 6th and 10th.
A quality team is the difference between Top 3 and Mid-table and we are consistently 6th because of the same constants in this story of mediocrity.

Woodward & The Board, Ashley Young, Chris Smalling, Phil Jones, Jesse Lingard & Co.

Anyways I don't want Pogba to leave or De Gea. I don't think Lukaku being sold is a top priority.

I think the urgent concerns are:
Replacing Young, Smalling, Matic, Herrera, Lingard as 1st team regulars
Shipping out useless deadwood like Rojo, Darmian & Alexis from the bench.

At this point our rivals would revel in us losing Pogba and De Gea.
It's probably best for everyone if we offer them the money to stay here until we stumble upon a viable plan Post-Pogba/De Gea, which is not Summer 2019.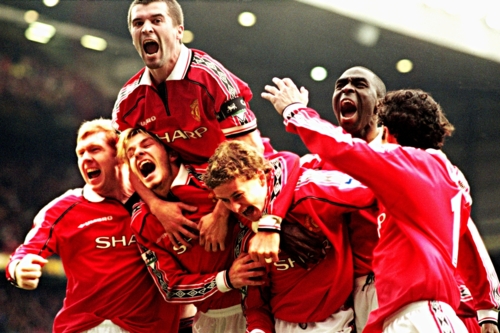 User(s) browsing this thread: 1 Guest(s)